The 1300mm combination vanity unit is trending in the present because of its modern design and unique characteristics. They have taken over the traditional basins by adding cabinets below the sink. A stylish addition to these units is adding a toilet into it, making a combination vanity unit. These vanity units allow storage space below the sink area to store toiletries and save the bathroom space by adding a toilet. Besides usability, these vanity units give a modish appearance to the bathroom and enhance its overall design. You can choose from various sizes, colours, and designs. In this article, you will explore multiple advantages of having combination vanity units and know why they make so much sense.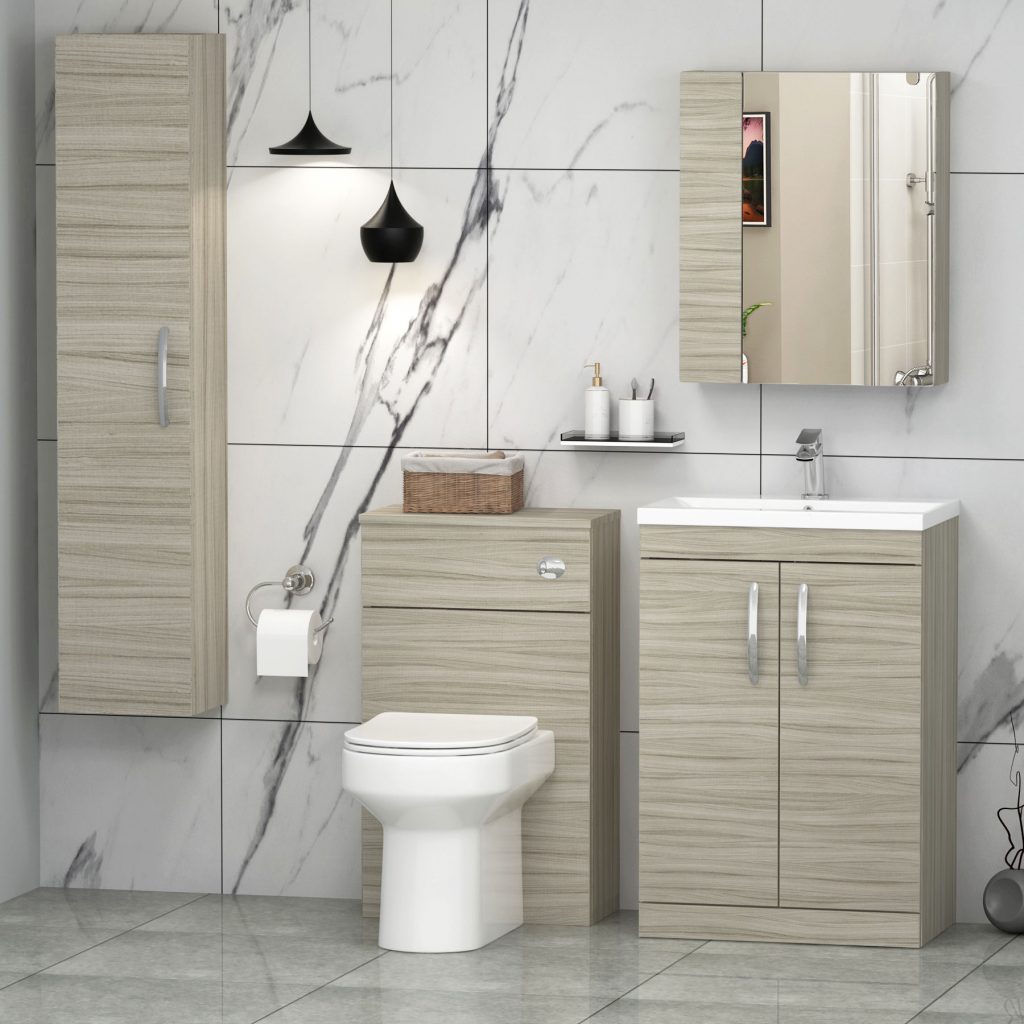 Why 1300mm Combination Vanity Unit
The combination unit is a combination of multiple fixtures that are combined to give you everything you need in a single package. When you plan for a bathroom makeover, the biggest problem that you may face is that is finding similar or coordinated looking fixtures. It is important that all your fixtures look the same. Otherwise, your bathroom will not look good. Perhaps it will all be completely against what needs for a contemporary look. However, adding a similar-looking bath will need you to install the same range of toilet, sink, storage or cabinets etc. That is not always possible.
Reasons for Installing 1300mm Combination Vanity Unit
Over time, the bathroom size in the UK has decreased. Therefore, in all such places, you need fittings or fixtures that you can fix in a small space. Better use of space and a minimalist look is what you need for a contemporary bathroom. Most of the bathrooms are out of space for a standard size fixture. There was a need for compact or slimline units that can fit into smaller spaces or help in saving spaces as well.
So, while the manufacturers came up with space-saving designs, there were more innovative ideas that can also help for the same purpose. One of such ideas, for the combination unit, where you can have the units that are combined but have all three major fixtures. For example, a combination vanity unit is among such choices that are a storage unit. However, besides providing the storage space, it also provides your worktop sink and a toilet that has its cistern inside the vanity. These fixtures are part of one complete package. Not only this takes less space, but it also costs less than the separate fixtures. 1300mm Combination Vanity Unit Saves Space
For compact bathrooms, space is the biggest concern. Installing even the essential sanitary item could eat up all the space and leave no room for you to use the bathroom comfortably. These 1300mm combination vanity unit are specially designed to solve this problem. You get a complete set toilet and sink with cabinets in one unit installed at an optimum position in the compact bathroom. In this way, plenty of the bathroom space is saved that would have been eaten by placing toilets and free-standing cabinets separately. So, it's the best choice for small and medium-sized bathrooms.
They Provide a Modern Look to Your Bathroom.
Were you tired of watching the same old-fashion bathroom look? Install these combination vanity units and give the bathroom a luxurious and modern appearance. The rectangular design gives a contemporary look that's very much common in modern bathrooms. Furthermore, the toilet, sink, and cabinets' combined design amazes anyone who visits your bathroom. So, by enjoying the practicality of these units, you can also show off your interior designing skills while giving the bathroom a modern and sleek appearance. Overall, they are one of the best and modern looking items in a bathroom.
It Comes in Various Styles and Colors.
Colour combinations play a vital role in defining the overall bathroom appearance. The 1300mm combination vanity unit is hight noticeable because they include three primary bathroom items in a single unit. One should choose a colour that doesn't contrast with the bathrooms. These units take away all these worries by having various options to choose. The most popular shades are white and black in these combination vanity units. However, the buyer can customize them in any desired colour that suits their bathroom.
The Combination Vanity Units Are Affordable.
Suppose you buy the toilet, sink, and cabinets for the bathroom separately. It will require a considerable sum of money. In addition, you will have to find the correct items and negotiating with the seller for all these items separately. The combination vanity unit ensures affordability as you get a complete toilet, basin, and storage cabinets in a single unit that will cost you a lot less than buying them separately. Furthermore, You can purchase it from one seller and negotiating with them for one complete unit instead of three
Do You Need a 1300mm combination vanity unit?
We have a discussion on various features of the 1300mm combination vanity unit. It can be a great way to add stylish storage that offers huge space-saving. With everything you need in a single package, your bathroom provides a contemporary look. At Royal Bathrooms UK, we can count on us for all your fittings and fixtures for a makeover. With the COVID-19 pandemic on the rise, we request everyone to get themselves' vaccines as early as possible. Good Day!
About Author